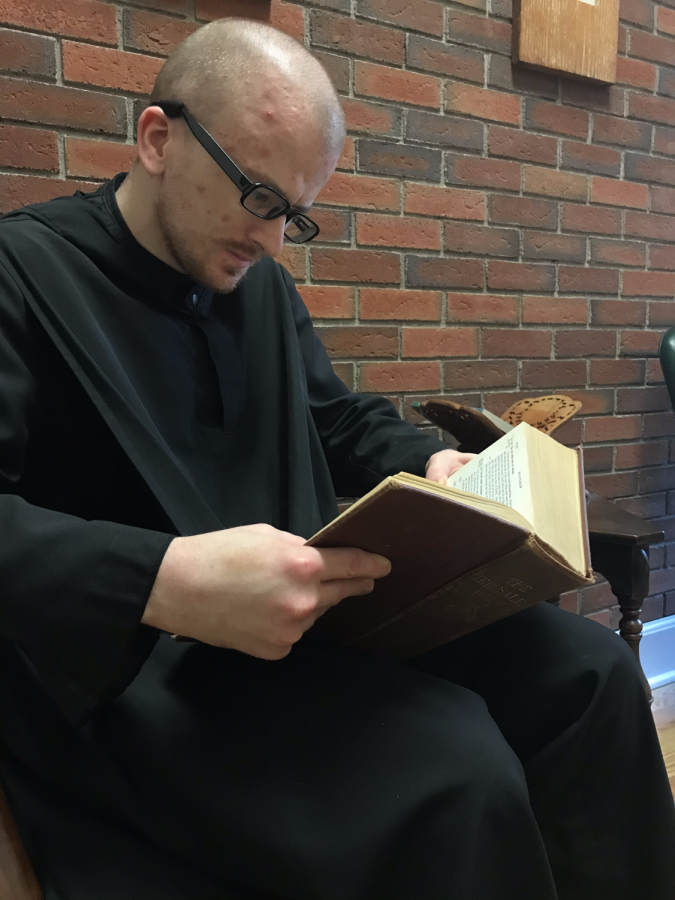 Hello.  My monastic name is Brother Thomas Aquinas Hall.  My vocation story started when I was in college. I went to Caldwell College in Caldwell, N.J., which is now a university.  I took the time then to reflect on my past, including being diagnosed with cancer as a student in the high school of St. Benedict's Prep, as well as my past in general since I almost died when I was born, and my parents were divorced when I was ten.  I also took the time then to think about my future since I wanted to do more than just go to graduate school right away, which was pretty much the only option that I was presented with as a Psychology major.  
The answer to what else I could do for my future came to me one day after one of my classes in college.  The professor wanted to talk to me after class when she saw me wearing a St. Benedict's Prep hoodie.  She happened to be one of the nuns there of the Dominican Order, and she asked me about the abbey at St. Benedict's.  I didn't know much, if anything, about it, so after graduating college, I came back to do a year of volunteering at St. Benedict's.  After this year of volunteering and seeing what the monastery was like, I decided to start my formation there. I thought I could try this since I figured this could be what I was looking for in college.   
Besides what everyone does in the monastery, which is praying, eating, and working together, as well as on their own, everyone in the monastery also has his own interests. For me, one of these interests is anime.  On the weekends, I usually create a new post each week on my anime blog (
https://sbpanalyzinganime.blogspot.com/
), which I also use when teaching anime classes in the school and with my anime club. Relating my interest in, and work with, anime to anything else I do is something that I like to do
too, like my graduate school work.  
After my initial formation in the monastery, I decided to pursue graduate studies in Transpersonal Psychology, which is basically a combination of psychology and spirituality. Learning about spiritual direction is something I did recently.  One of the important things in spiritual direction is the relationship between the spiritual directee, or client, and the spiritual director, or mentor of the client. The spiritual directee should be talking most of the time, while the spiritual director listens most of the time.  Anyone interested in joining a monastery should be like a spiritual directee when talking about it to a spiritual director.  Hopefully, you have a spiritual director in your life.  If you feel called to monastic life, then visit our website.
Br. Thomas Aquinas Hall O.S.B., Faculty Contributor
Jul 30, 2020

The Importance of Lectio Divina

(Story)