Group Games Update: Slow But Steady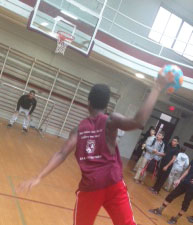 Hang on for a minute...we're trying to find some more stories you might like.
Wrestling teammates  SY Jawan Jones and UDII Tyler Hayes had a fight to the finish when Father Eugene and Father Celestine collided on March 21st. With a final score of 2-1, Father Celestine was able to pull off a win with overtime penalty shots. A controversial call regarding a shot taken marked the turning point in the game.What was a slow strategic game turned into a last minute nail biter as UDII Alfred Daniel of Father Eugene shot a buzzer beater to tie the game and send it into OT. However, it did not take long for Father Celestine to put the pressure on as SY Eliezer Vazquez of Father Eugene could not make the shot to keep the overtime round continued.