The Track Team Runs Its Way to a US #1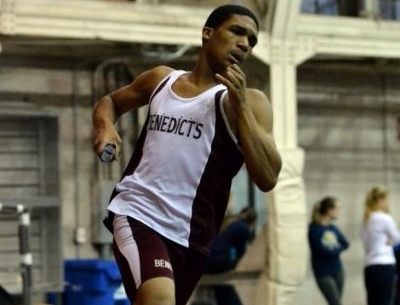 Flotrack.org
Othman Muhammad, Online Editor-In-Chief
January 27, 2017
After a year hiatus, The Gray Bee track team returned to the Yale Track Classic and ran nationally ranked times in the 4×800-meter run and Distance Medley Relay, January 20 – 21.
Consisting of senior Adrian Ceballo, UDI Ronald Kigen, senior Byron Simmons, and UDI Alfred Chawonza, the Varsity 4×800-meter relay took first place.
Adrian ran the leadoff leg and put the team in a stellar position. With 200m left in his leg, Adrian was in third, but on the back straightaway he mustered the energy to pass two competitors. Adrian ran two minutes and one second and exchanged the baton to Ronald in first place. Ronald maintained the relay's positioning, and Byron created a gap from the competition. Byron finished his leg with an impressive 1:56, and Alfred anchored the team to a winning time of 7:55.11.
With that winning time, the Gray Bees are now ranked first in the nation for the 4×800-meter run, and the team qualified to compete at the New Balance Indoor Nationals, in March.
Distance Coach David Alfano was impressed with the team's performance.
"Our goals going up to Yale were to secure National Qualifiers and a time fast enough to get us into the Millrose Games 4×8," Coach Alfano said. "I am happy with how the guys ran, and I am confident with a few more weeks of training that these guys can drop times much further."
The Distance Medley Relay consisting of 1200m leg Ronald, 400m leg UDII Kaylan Depas, 800m leg Byron, and 1600m leg Alfred took first with a time of 10:32.37. Ronald started the race and exchanged the baton to Kaylan in second place. Kaylan made a move that placed the team in first, and Byron maintained that position. During the final lap of the race, Salesianum School's anchor attempted to pass Alfred for the victory. However, Alfred's strong finish secured the victory for the Gray Bees by .27 seconds.
Despite missing the New Balance Indoor National qualifier by four seconds, the Gray Bees are currently ranked 16th in the nation.
Byron recognizes the team current position and hopes to build off this experience.
"For the DMR were hoping to drop our time, so we can be contenders for nationals," Byron said in an interview with Milesplit. "Now it's a matter of moving forward and to keep working hard."
The last awarded performance by the Gray Bees came from the 4×400-meter relay. The team consisting of UDI Justin Eastman, UDI Elijah Allen-Smith, senior Geoffrey Ofori, and Adrian placed third running a time of 3:35.39.
Overall, Sprint Coach Sharon Allen was satisfied with the team's performance and optimistic about its future.
"Each person raced extremely well, and the future looks bright for the SBP sprinting program as we continue to shift the guys towards Nationals status," Coach Allen said.